HELP Sponsorships
Community Theatre, Benefit, and Sponsorship opportunities:
Your Organization, Presents Brown Tones Productions'
"Harriet Tubman A Woman of Action"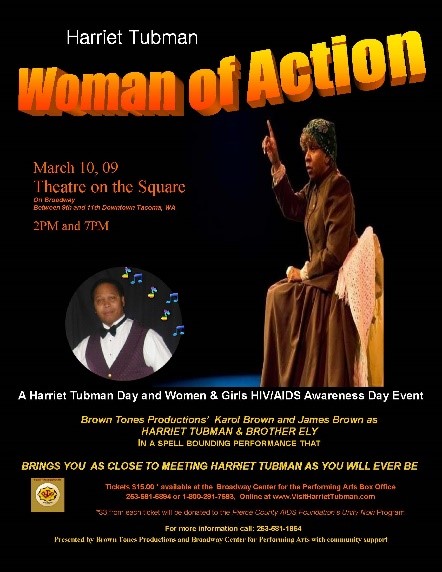 90-minute stage performance with Dramatic Storytelling with Live Music
This program highlights Harriet Tubmans Actions Leading people to freedom, Speaking out about Civil Rights, Attending Women's Suffrage Rallies, Serving in the US Army during the Civil War as a Spy, Nurse, Scout, a Business Woman, Caregiving and Establishing a Homeless and convalescent home.
Great way to engage the community

Bring Families to the Theatre

Identify with a Real-Life Heroine

Celebrate March Women's History Month and Harriet Tubman Day March 10 ( also Women and Girls HIV Awareness Day)

August 26, Women's Equality Day

February Black History Month

Demonstrate your support for:

Health Awareness

Women's Shelters

Homeless Programs

Women Veterans

Foster Children
Sample of a Sponsorship Opportunities for Harriet Tubman Day
Your Organization and Brown Tones Productions are offering an opportunity to develop unforgettable connections as an organization that seeks to build deeper relationships with the communities in the Tacoma, WA area.
This sponsorship provides an opportunity to introduce Your Organization as a local company that cares for people. This family-focused event provides information to help build healthy families in all aspects of health and providing a connection to community resources and it could be considered a possible life-changing program.
Be a part of the Celebration of Harriet Tubman Day March 10, in the promotion of healthier lives.
A family day out at the theatre.
Bring families to a live theatre event to hear Harriet Tubman's stories and to learn about the importance of having friends and a network of organizations that recognize their responsibility for supporting low-income families.
Support the recognition of an American Heroine, a role model, Harriet Tubman, the first woman chosen to appear on United States currency, the twenty-dollar bill. Harriet Tubman represents a person of self-determination who empowers others to develop loving relationships, leadership potential, to advocate to take actions for self-improvement, self-care and how to provide hope for a better future for others.
Along with the inspiring stage performance, there will be information in a video presentation on HIV/AIDS and women along with information booths of health services in the lobby.
The audience will be composed of families with school-age children, invited from youth groups and community centers in the lower-income areas of Dayton, and surrounding communities. About 60 % of women in the audience, as a secondary audience are women's groups in the same social-economical groups low to middle incomes.
The media will see these programs as a novelty and interesting new worthy events to cover. The number of inquiries for information and tickets for the events will generate thousands of opportunities to covert these new contacts into new clients.
Various Levels and Sponsorship opportunities are available.
See what we did for HIV/AIDS Awareness Day